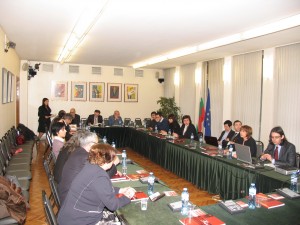 On 30 March 2012, the Center for the Study of Democracy (CSD) organised a workshop on "Justice Sector Institutional Indicators for Criminal Case Management". The event gathered together representatives of the judiciary, the Ministry of Justice, experts, academics and attorneys. CSD presented the study on "Justice Sector Institutional Indicators for Criminal Case Management: Efforts on Supranational and National Level, Bulgarian and Polish Perspective", which reviews the existing practices of courts' performance measurement and criminal cases management based on the concepts of efficiency and effectiveness, transparency, quality care, benchmarking, result orientation and accountability.
The participants among whom were Justice Pavlina Panova from the Supreme Cassation Court, Ms. Ivanka Ivanova, Program Director of the Legal Program of the Open Society Institute – Sofia, Judge Plamen Datzov from the Sofia Appellate Court, Mr. Roumen Kirov, investigating magistrate from the National Investigation Service, Mr. Dinko Kanchev, attorney-at-law, Ms. Rada Yossifova, attorney-at-law, member of the Sofia Bar Association, and Mr. Dragomir Yordanov, Director of the National Institute of Justice, discussed Bulgaria's achievements in implementing justice system performance indicators and the role of information technologies in improving the effectiveness of justice in Bulgaria, as well as country's position in relation to other EU member states.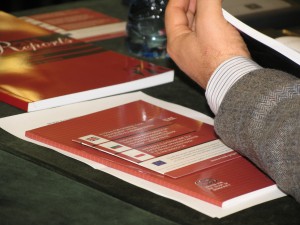 During the debates was agreed that improving the quality measurement system assisted by implementation of new technologies require political determination and would be essential for overcoming efficiency objections as backlog of cases, and the long period needed for the case to be solved, etc.
The event was organised in the framework of the Project "Tracking Progress in Strengthening the Criminal Justice Indicators for Integrated Case Management (e-Tools)" implemented by the Center for the Study of Democracy, Droit au Droit, Adam Mickiewicz University (PL), with the assistance of the European Public Law Organisation (EPLO), and supported by the Criminal Justice Programme of the European Union.
For more information and recent updates on the project please visit: http://www.e-tools-project.org/