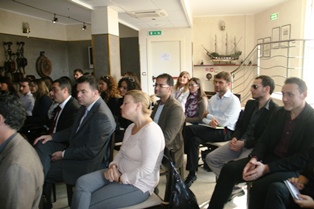 On 26/29 October 2012, the Department of Legal Studies of the University of Salento, in partnership with the Center for the Study of Democracy (Sofia, Bulgaria) and Droit au Droit, (DAD), organised the second module of the judicial training on EU crimes against environment and maritime pollution, which was held in Otranto, Italy.
The purpose of the training session was to train legal professionals on the EU legislation and jurisprudence on environmental crimes in order to strengthen their knowledge and competence in the sector as well as their capacity to contribute to their effective enforcement. The session was dedicated to the presentation of domestic legislation and case law on maritime pollution crimes, as well as an analysis of the challenges faced in the implementation and enforcement process of relevant EU Directives.
Topics at the centre of the session included: a) Oil and chemicals spills in international waters, highlighting the existing measures at EU and national level to respond to illegal discharges; b) the concept of maritime crime and the scientific contribution to legal investigation; c) domestic strategic litigation in maritime pollution, with a specific focus on the Spanish and Bulgarian judicial systems.
International experts which contributed to the session included Dr. Marc Journel, Senior Project Officer at The European Maritime Safety Agency (EMSA), Fernando Boero, professor of zoology and marine biology at the University of Salento, Dr. Carola La Tegola, University of Salento, Luis Ramon Ruiz Rodriguez, Professor of penal law, University of Cádiz, Mr. Victor Tartchev, Prosecutor, Sofia Regional Prosecutor's Office, and Member of Executive Committee at Association of Prosecutors in Bulgaria.
The training course was organised in the framework of a project supported by the European Commission, aimed at building the capacity of judges, prosecutors, forensic officers and other legal practitioners (from selected EU Member States as well as countries on the road to EU membership, geographically located along the coast of the Adriatic sea (namely Italy, Bulgaria, Albania, Montenegro, Croatia) to implement existing European and international instruments and rules aimed at tackling environmental crimes and in particular marine pollution.
For more information and recent updates on the project please visit: http://www.judt.unisalento.it/.
*Project "Judicial training and research on EU crimes against environment and maritime pollution - TRAINENV" (JUST/2010/JPEN/AG/1540). Project leader: USAL (IT)